QM10 Laser Distance Meter
With the Spectra Precision© QM10 Laser Distance Meter you are one button click away from taking an accurate measurement. It is small enough to fit in your pocket and durable enough to be used on the jobsite every day. Use it indoors or outdoors, with a backlit display it is easy to read in dark areas. The QM10 can measure distances up to 100 feet. It is ideal for vertical measurements, areas tight on space, and measurements needed across bodies of water. There are several scenarios where it would be easier to use than a measuring tape. It even has the ability to calculate areas and volumes!
Features & Benefits
Accurate and reliable-, no sagging tape
Fast point and shoot measurements, easy to operate
Measuring range of 100 feet (30 m)
Accuracy of ± 1/12 inch (± 2.0 mm) over the entire range
Area and Volume calculations
Long battery life – 8000+ measures
Last measurement memory and storage
Backlit display for ease of viewing in low light conditions
Selectable units of measure
2-year warranty
Applications
Measuring distances
Checking building square, area, and volume
Measuring for material estimation
Spacing of installation points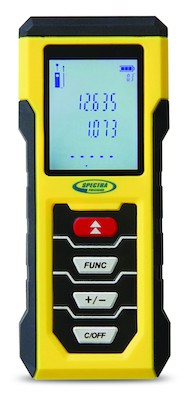 QM20 Laser Distance Meter
Need to quickly measure distances up to 165 feet away? Then you need the Spectra Precision© QM20 Laser Distance Meter. It is a compact laser tool that can fit in the palm of your hand. It is perfectly designed to measure distances indoors or outdoors that you cannot collect with a measuring tape. It is handy for calculating functions using Pythagorean theorem as well as areas and volumes.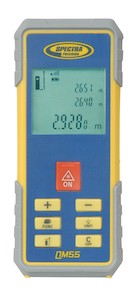 QM55 Laser Distance Meter
The Spectra Precision© QM55 Laser Distance Meter is the toughest laser tool on the market. It is built with engineered plastic, rubber molds, and the interior electronics are isolated they therefore cannot be jarred easily. It is not only durable; it is also smart. It can calculate areas, volumes, and Pythagoras functions. This is a tool you do not want to be caught without.