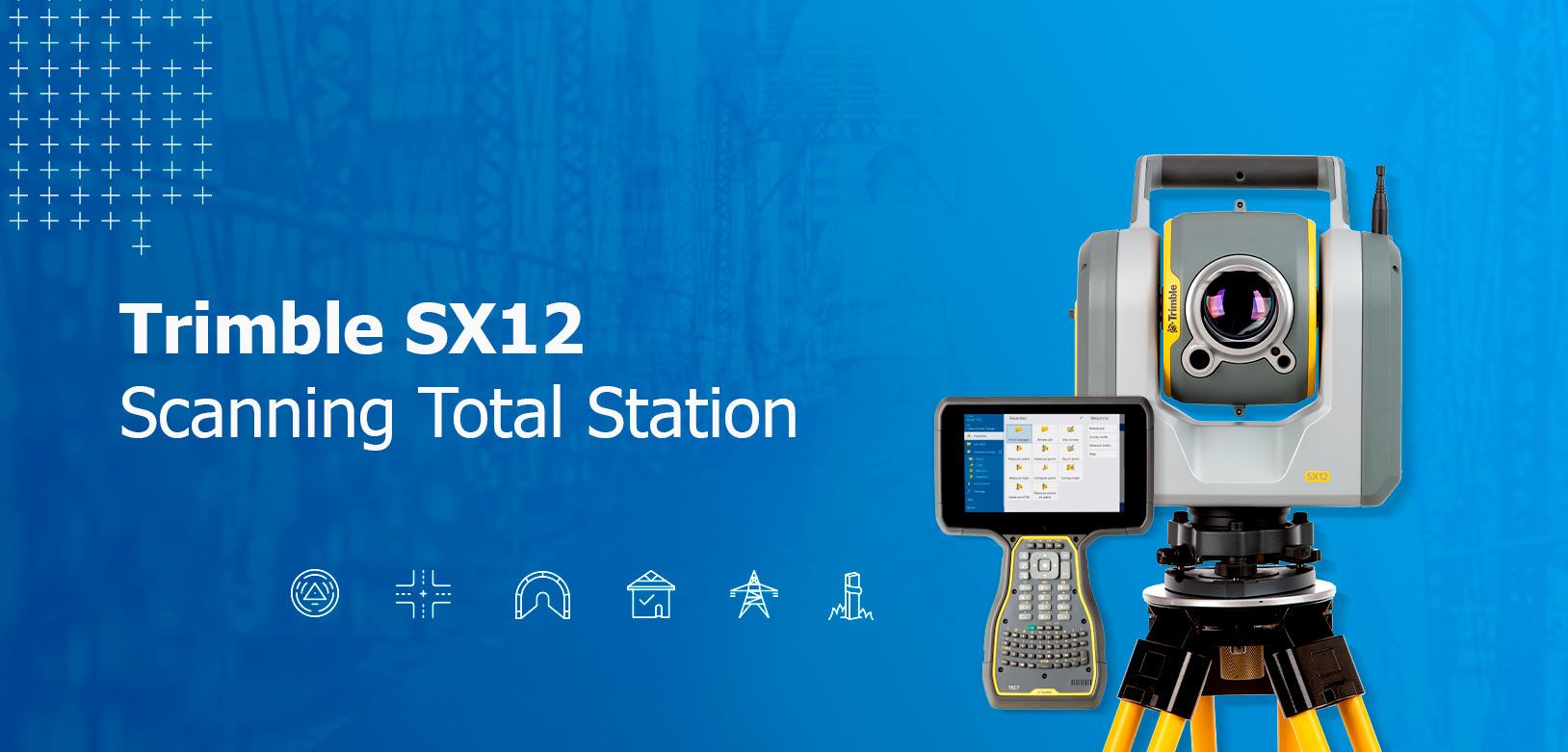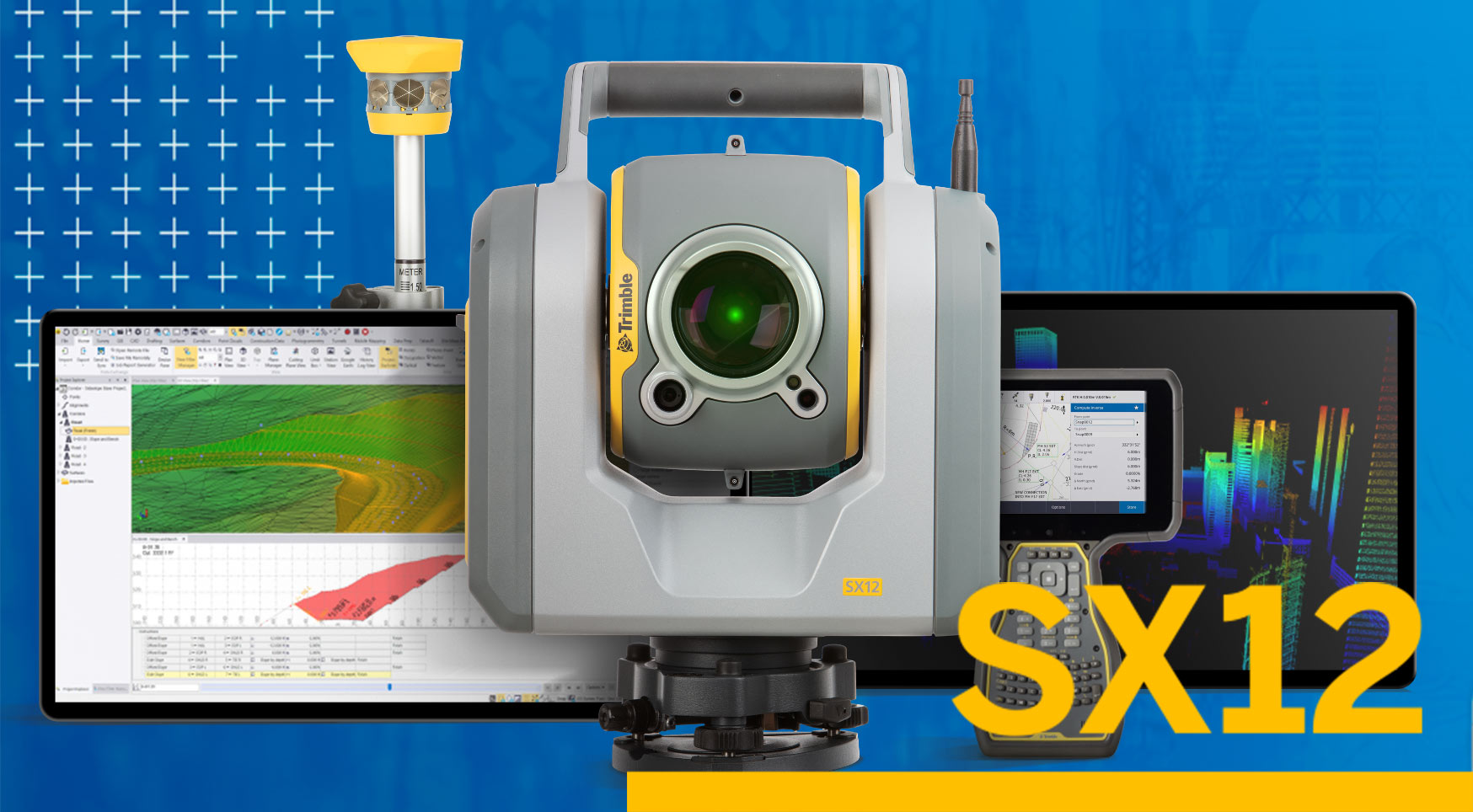 Trimble SX12 Scanning Total Station
With the Trimble SX12 Scanning Total Station, you can survey any industrial area with optimal performance and precision. Considered the industry's most innovative solution for scanning, surveying and engineering professionals, the Trimble SX12 is your number-one resource.
If you perform land surveying applications in your industry, you require accurate and efficient technology to optimize your scanning and imaging operations.
Functions of the Trimble SX12 Scanning Total Station
The Trimble SX12 Scanning Total Station enables users to take on any survey project with next-level efficiency, seamlessly capturing the locations of buildings, boundaries, easements and site improvements. This simple yet intuitive instrument is designed with speed, versatility and user-friendliness in mind. It exhibits powerful imaging, accurate surveying and 26,000 point-per-second 3D scanning capabilities that will optimize your everyday workflow.
When you use the Trimble SX12, you'll boost productivity in the field with all of the following functions:
Collect: This solution is equipped with the Trimble Access™ field software and Lighting 3DM, which allow users to collect survey data, high-speed scans and VISION™ imagery with efficiency and ease.
Process: You can use the Trimble RealWorks® Office Software or Trimble Business Center™ to facilitate advanced scan processing.
Deliver: The web-based Trimble Clarity viewer can visualize and share any 3D model data using any device with an internet connection.
Support: The Trimble SX12 comes with a dependable two-year factory warranty. You can also invest in long-term protection plans for further support.
Trimble SX12 Specs
The Trimble SX12 is equipped with many innovative features that will serve you for years to come.
High-Accuracy Scanning
You can generate accurate, high-quality scan data with the following product features:
Angular accuracy of 1 inch
Electronic distance measurement (EDM) diameter of 14 millimeters
100-meter laser spot
Eye-Safe Laser Pointer
This instrument is equipped with a small and vibrant laser pointer with a record-breaking spot size measuring only 3 millimeters at 50 meters away. The Trimble SX12's green laser pointer has precise aim, measurement and marking capabilities. Despite its excellent visibility, this laser pointer is completely eye-safe.
Long-Range Data Capture
The Trimble SX12 Scanning Total Station has fast and efficient long-range data capture capabilities:
Scan measurement rate of 26.6 kilohertz (kHz) and up to 600 meters
DR mode total station measuring time of 1.2 seconds
Prism mode total station measuring time of 1.6 seconds
Simple Navigation and Documentation
Our survey solution features three integrated and calibrated cameras within the telescope. The Trimble VISION™ camera system is engineered to facilitate straightforward navigation and documentation.
Applications of the Trimble SX12
The Trimble SX12 can take on even the most demanding surveying applications, including:
Underground mine surveys.
Stake, topo and surface inspections.
Boundary and land title surveys.
Roadway and corridor surveys.
Infrastructure surveys.
Find the Trimble SX12 for Sale at Monsen Engineering Today
If you're looking to improve your survey performance, consider purchasing the Trimble SX12 at Monsen Engineering. We are a one-stop shop for cutting-edge quality measurement solutions, aiding customers from project planning to completion. We're proud to have served as the leading product supplier for the design-build industry for over 45 years and counting.
You can find more Trimble products for Construction and Mining at SITECH Intermountain
The Trimble SX12 Scanning Total Station works with:
If you have any questions about the Trimble SX12 or another of our other products, please feel out the form below.