Trimble X7 Scanning System
Laser scanning technologies have become valuable resources for surveying structures, landscapes and buildings, as well as all their furnishings and arrangements. When performing land surveying tasks, it's essential to have an advanced laser scanning system that exhibits optimal efficiency and accuracy. With the Trimble X7 Scanner, you can experience powerful performance paired with user-friendly operation.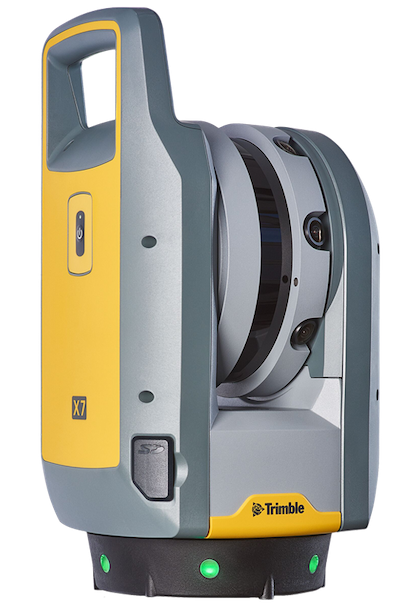 Trimble X7 Scanner Features
As the most commanding 3D scanner on the market, the Trimble X7 scanning system is your smart and simple solution for high-performance scanning. Designed to simplify adoption, provide confidence in the field and boost surveying efficiency, our scanning system is the number one choice for surveyors and geospatial professionals.
The Trimble X7 exhibits survey-grade scanning accuracy and features a 3D visualization tool that ensures that you never miss a scan. After completing your scans, you can export the data into industry-standard files for easy sharing.
Other innovative features of the Trimble X7 Scanner include:
Automatic calibration: This instrument features the industry's first smart calibration system that doesn't require the need for targets or user interaction — all you have to do is secure the scanner to a tripod, and you're ready to go. It also generates detailed calibration reports on demand.
Laser pointer: The Trimble X7's laser pointer identifies and visually confirms individual points to be measured by Trimble Perspective.
Georeferencing: With Trimble Perspective, you can link registered scans to a project coordinate system for easy visualization.
Self-leveling: Our 3D scanning system automatically levels scans with cutting-edge accuracy.
Registration: The Trimble Registration Assistant helps users increase field productivity by employing automatic scan registration
Trimble Software
The Trimble X7 is optimized with our new Trimble software to further increase performance:
Trimble Perspective Software: This solution captures scans and images, registers them together and refines, controls and exports them to various data formats for any software suite.
Trimble Perspective Mobile: Our mobile application pairs with the Trimble X7 and delivers the core functionality of our Trimble Perspective field software, allowing users to create new projects, set imaging and scan parameters and view them in the field. This app is free to download for iOS and Android phones.
Benefits of the Trimble X7 Scanning System
The Trimble X7 scanning system exhibits all of the following advantages, making it your go-to field surveying system:
SIMPLE
Our instrument trumps traditional scanning by demonstrating exceptional ease of use, intuitive workflows and an easily transportable compact form factor.
SMART
The X7 guarantees top performance and accuracy with state-of-the-art innovations like automatic calibration and self-leveling capabilities.
PROFESSIONAL
This 3D scanning system has all the next-level features needed to facilitate precise, high-efficiency operation. It also has an Ingress Protection (IP) Code 55 rating and is backed by our two-year warranty.
Applications of the Trimble X7
When you invest in the Trimble X7, you can use it for indoor and outdoor environments for applications like:
General surveys.
Civil infrastructure.
Utilities.
Road intersection surveys.
Historical documentation and renovation.
Mining.
Forensics.
Industrial survey/tank calibration.
Marine construction.
Storage tank calibration and inspection.
Building construction/facility management.
Find the Trimble X7 for Sale at Monsen Engineering Today
You can experience industry-leading surveying performance with the Trimble X7 Scanner from Monsen Engineering. We are proud to have served as a top product supplier for the design-build industry in the Intermountain West for over 45 years.
You can find more Trimble products for Construction and Mining at SITECH Intermountain
If you have any questions about the Trimble X7 Scanning System or another of our other products, please feel out the form below.