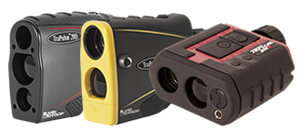 How the TruPulse Laser Rangefinder Measures Up:
Measures distances, height, missing line* and azimuth*.
Fits inside a vest pocket and is very economical.
Displays all measurements and menus right in the scope.
Mounts on a staff or monopod for more stability
Integrates with GPS and popular GIS software.
*Applies to only the TruPulse 360 laser rangefinder

TruPulse Overview
Laser Technology manufactures products that use reflectorless measurement technology to provide you the ability to measure both distances and speeds. Their dedication to high quality and unmatched innovations has produced the TruPulse laser rangefinder series. With this series you can instantly measure slope distance, inclines and azimuth as well as calculate horizontal and vertical distance. A single button will change the way you measure.