The TinySurveyor Terra: a Robotic Land Surveyor
The world's fastest robot for stakeout. A safer, more efficient way to work.
As the world's fastest stakeout robot, the TinySurveyor Terra from TinyMoblieRobots is a safer, more efficient way to work. Arrive at a job site with your layout design, send them to the TinySurveyor Terra and start your stakeout right away. A range of integrations ensures this tiny survey robot collects all the valuable data your crew needs for accurate modeling and building.
While the TinySurveyor Terra supports your stakeout needs, it's also excellent for pre-marking road lines. The compact line marking robot will drive autonomously as it paints extremely precise points with accuracy between 1 and 2 centimeters. With so many efficient features, the TinySurveyor Terra is a brilliant addition to any crew.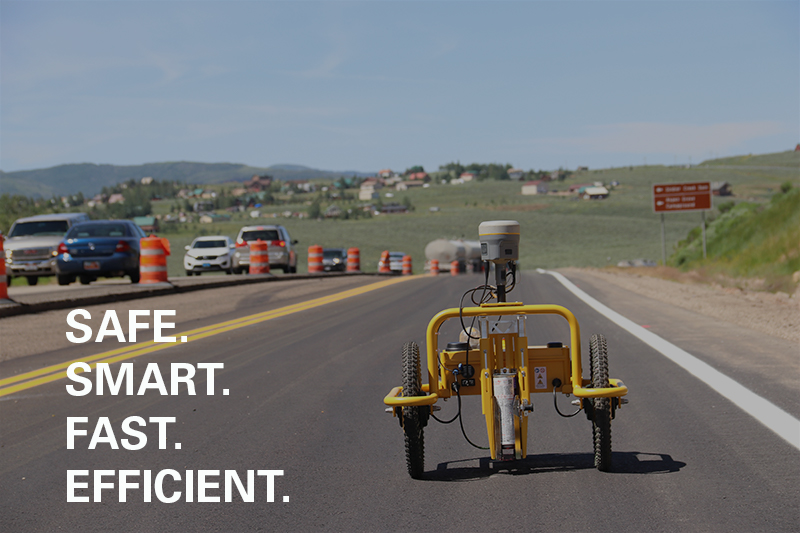 Key specifications:
Weatherproof
Long-range remote controller
Reads data from USB stick
Increases personnel safety
Works for eight hours on one battery charge
Integrates with your existing GNSS receiver
Tested with Topcon, Trimble and Leica
Automatically marks points and lines
Supports common data formats
Integrates with total station for height measurements
High Precision in a Tiny Survey Robot
The TinySurveyor Terra from TinyMobileRobots is the latest in survey technology. Rather than spending hours manually surveying a job site, this tiny survey robot cuts stakeout time in half with the following advanced capabilities.
Use Your Existing GNSS
Compatibility with a Global Navigation Satellite System (GNSS) is vital for any robotic land surveyor to track position and send data to the operator. TinySurveyor Terra adapts to your GNSS receiver and related equipment to deliver position data as it runs.
Supports Common Data Transfer Formats
Every crew has a preferred file format for their stakeout data. With the TinySurveyor Terra, teams can transfer data to the robot using a standard CSV or DXF file. Quickly initiate data transfer by plugging in a USB key with your line design.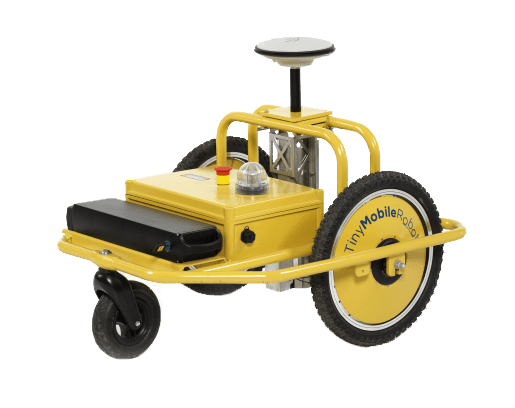 Full Integration
The TinySurveyor Terra stakeout robot offers compatibility with leading brands in the construction and surveying industry, including Trimble, Topcon and Leica. Whether you use total stations or software with these brands, the TinySurveyor will offer its full range of features.
High Accuracy Stakeout
Alongside its advanced GNSS capabilities, this tiny survey robot offers further accuracy with total station integration. As you gain site data on distances, you can gather height information for a more precise data set. Once your stakeout is complete, you'll have comprehensive information for the building stage.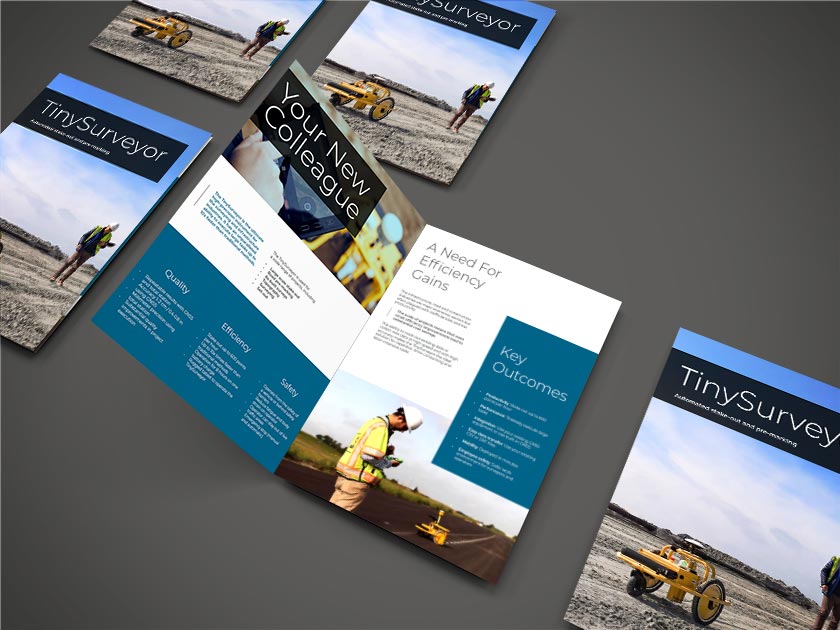 A Simple Design for Impressive Results
The TinySurveyor Terra uses a simple design for increased efficiency. The advanced robotic line marker uses a tri-wheel configuration to easily navigate around turns and on various terrain types. Two large motor wheels deliver reliable performance over rocks, gravel, dirt, sand and more. As a completely waterproof road striping robot, the TinySurveyor Terra can operate in rainy weather without sustaining damage.
Transport this tiny survey robot from site to site with ease. Weighing only 40 pounds, crews can load it on trucks and trailers in seconds. Other design features include:
An eight-hour battery: The TinySurveyor Terra can complete a full day of work on a single battery charge—no breaks required.
Signal light: Operators can see instant communications from the road striping robot as it works.
Tool area: Use any aerosol up to 750 mL to mark points and lines or integrate a laser pointer.
Data communication: Bluetooth and radio capabilities ensure the TinySurveyor Terra can communicate data in seconds.
GNSS receiver: A high-accuracy GNSS receiver, tested by leading manufacturers, receives real-time position information.
Emergency stop: With a manual and automatic emergency stop, crew members can protect the robot and each other.
Download a brochure to receive a short introduction, top FAQ list, use cases and more.
User-Friendly and Powerful Tablet Solution
Advanced Control With Tablet Navigation
The TinySurveyor Terra tablet gives operators complete insight into surveying projects. Clear graphics and a user-friendly interface allow users to control the robot and project parameters fully. CSV and DXF files can be sent from the tablet to the robot, allowing teams to start operation within minutes of arriving on site.
The tablet works at a long range to ensure operators can reach the far ends of their job sites without having to be close to the system. Other tablet capabilities allow users to:
Adjust velocity for speeds up to 2.5 mph
Apply projection shifts
Customize marking settings
See how Austin Bridge & Road utilizes advanced robotic software and artificial intelligence to deliver high-precision markings.
18 kg / 40 lbs excluding battery
4 km/h / 2.5 mph max. marking speed
Improved Safety for Survey Teams
Surveying occurs in many different environments, and some of them come with safety risks. If a stakeout needs to happen along a highway, manual work can put team members at risk. With the TinySurveyor Terra, operators can control the system from a distance and remain safe behind a barrier or car.
Extensive marking projects also come with physical labor. Especially during large projects, surveyors can wear themselves out, potentially pulling them out of work and disrupting the project timeline. While survey professionals know what they're in for, the surveying process doesn't have to lead to excessive strain. The TinySurveyor Terra allows your workers to get the job done without expending unnecessary energy.
A Robotic Land Surveyor With Endless Applications
As a robotic line marker and stakeout robot for surveyors, the TinySurveyor Terra supports extensive applications for crews everywhere. Many teams around the world have relied on TinySurveyor Terra to lay accurate markers and keep up with project timelines. Some uses for the TinySurveyor Terra include:
Highway pre-marking: Highway construction can include large-scale projects that demand efficiency. The TinySurveyor Terra can travel long distances with its long battery life and wide range while creating accurate pre-markings for highway crews. A team in the UK relied on the tiny survey robot when making a massive addition to the M6 motorway.
Harbor set-out: The TinySurveyor Terra proves it can operate over sandy terrains without sacrificing speed and accuracy. During a harbor contraction project, a Danish team staked out thousands of points for drainage pipes.
Maritime port construction: In an active area like a port, construction projects need to happen quickly. A French crew kept up with timeline demands with the TinySurveyor Terra while covering a large distance.
Indoor set-out: In Germany, a team relied on this robotic line marker to layout marking for booths at an indoor exhibition. With the tiny survey robot's accuracy, the team could fit in every booth.
Contact Monsen Engineering About TinyMobileRobots for Sale
Monsen Engineering delivers a range of products to support productivity on the job site. With a robotic land surveyor from TinyMobileRobots, your team can achieve more in less time. Get in touch with our team today to learn more about the TinySurveyor Terra and to purchase yours.