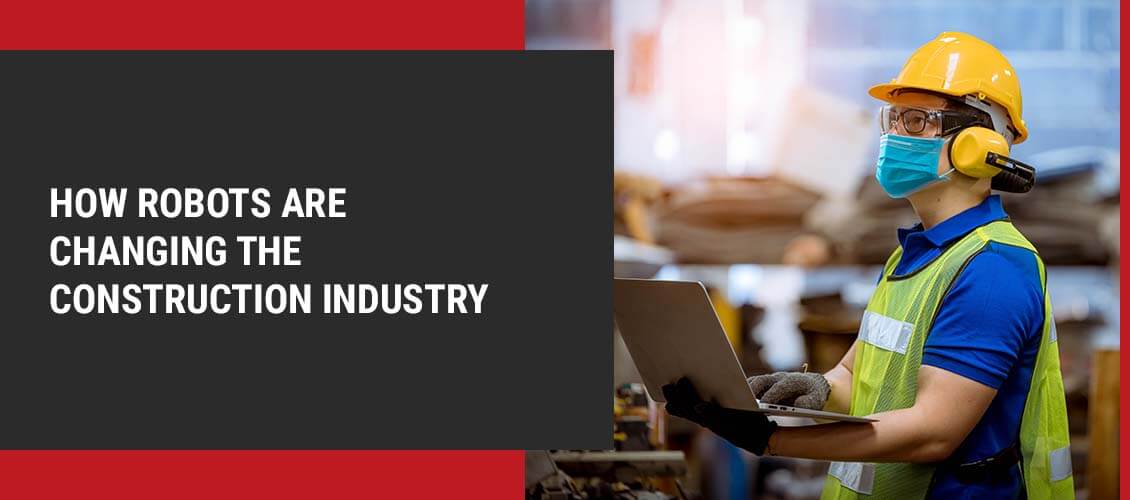 The future of robotics in the construction industry is happening right now — and it's giving the industry massive potential to reach its prime.
This sector is one of the largest in the global economy with $10 trillion spent each year, making up about 13% of the world's gross domestic product (GDP). However, the industry's labor-productivity growth has only slightly increased over the past several years. If higher productivity levels existed within the sector, it's estimated that more than $1.5 trillion dollars in value could be added.
With an incredible amount of potential for productivity, safety and efficiency, autonomous robots are changing construction. And if we've learned anything within the past year from COVID-19, it's that most types of work can be done from anywhere at any time. Keep reading to learn more about the ways robotics will change the construction industry.
What Are Construction Robots?
After decades of using the same techniques and machines, construction robots are here to skyrocket efficiency and productivity within the industry. These robots are autonomous machines that complete tasks on construction sites. It's possible to retrofit various heavy equipment machines with artificial intelligence to operate and perform duties like a human worker would.
For example, you can retrofit machinery like bulldozers, trucks, compactors, asphalt pavers and loaders to perform tasks like hauling, digging, loading, bulldozing, painting and bricklaying. An intelligent control system calculates the exact movements and materials needed for a specific project. Some construction robots like drones can even gather information about your site, delivering real-time maps and information on areas that require additional work.
There are limitless possibilities with autonomy — humans can work alongside the robots, or the machines can operate solo without human interference. This technology isn't new, either. The mining and agriculture industries have been using autonomous equipment for several years now. In the agriculture industry, GPS technology guides heavy equipment machinery along rows of crops. The robots used in construction can achieve similar results.
There are many types of construction robots, including:
Drones
Robot laborers
Industrial robots
Self-driving robots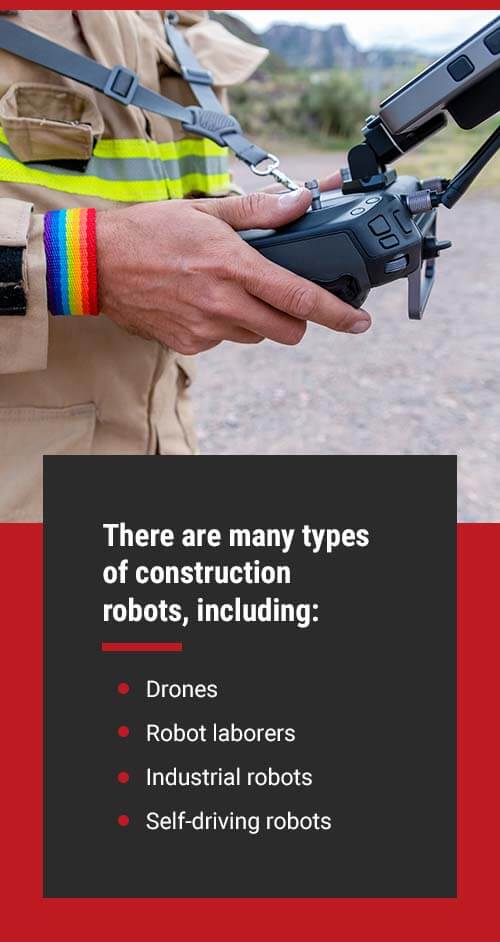 Drones
A drone can survey land to generate a 3D map of your worksite. This visual depiction helps improve security while allowing you to inspect hard-to-reach areas. A drone's LiDAR (Light Detection and Ranging) and GPS systems, combined with artificial intelligence, can even deliver predictable tasks for project areas that require rework before costly repairs are needed down the line.
Robot Laborers
The way a robot laborer comes into play is by filling labor shortages throughout the construction industry. These are autonomous robots with human-like features, meaning they can perform many of the same tasks as humans, freeing up workers to complete responsibilities that are more worth their time. Some operate solo while others work alongside humans.
Industrial Robots
These robots include forms of technology like articulated arms, coordinate systems that can print 3D materials and collaboratives that work side-by-side with humans. Specifically, industrial robots are common in manufacturing warehouses and construction sites that demand repetitive tasks.
Self-Driving Robots
With artificial intelligence units linked to machines — like bulldozers, excavators and levelers — you can eliminate human errors, skyrocket safety and collapse construction times. A prime example of safety involves road construction. Instead of endangering workers on highways, self-operating machines can take their place while eliminating human errors along the way.
Specifically, autonomous track loaders (ATLs) function without an operator and rely on LiDAR, which depends on GPS, light detection and sensors to navigate on their own. ATLs can perform light construction work like transporting different forms of supplies and materials. Other robotic heavy machinery can output a range of tasks like excavating, pushing heavy objects and trenching.
3 Ways Robots Are Changing the Construction Industry
Within the past several decades, the construction industry hasn't changed nearly as fast as the rest of the world when it comes to technological advances, leading to challenges like labor shortages, unsafe work zones and inefficient execution of various tasks. These challenges have allowed experts in the field to realize that current practices aren't as sustainable as they once were.
The three ways autonomous robots are changing the construction industry include:
Creating safer work environments
Improving construction tasks
Meeting industry demands and labor shortages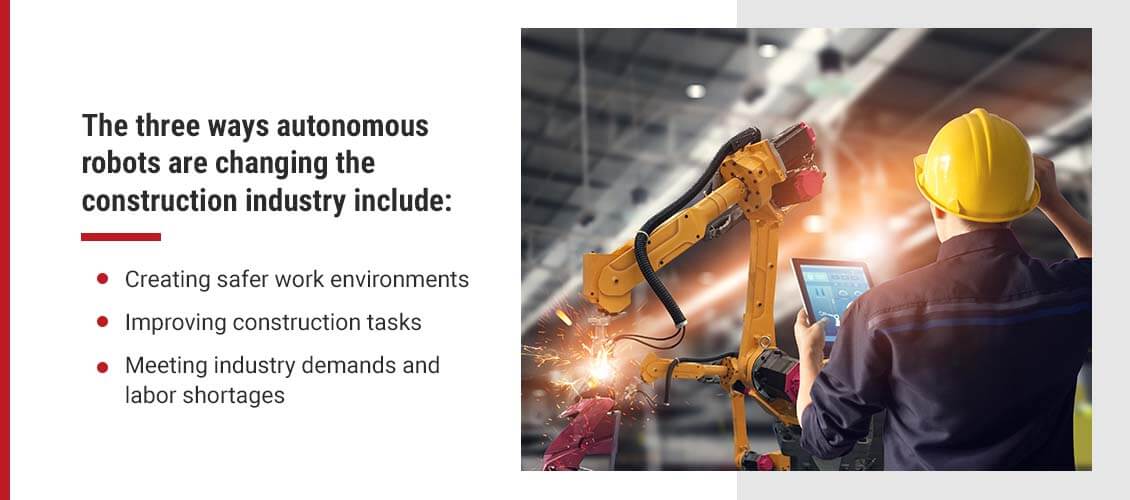 Bringing digitization and automation to an industry that largely hasn't benefited from the rest of the world's technological advances can transform how it works.
1. Creating Safer Work Environments
Because construction is one of the most dangerous jobs, robots can eradicate the need for laborers in unsafe and hazardous conditions. For example, automation in the construction industry can prevent and reduce the number of construction site injuries caused by repetitive stress. As robots take over the more mundane motions involved in a project, workers can avoid overexertion.
2. Improving Construction Tasks, Not Eliminating Workers
When you think of robots working in the human world, you may think they're here to overtake jobs. But construction robots aren't here to replace the current workforce. Instead, artificial intelligence within the industry is can adapt and improve the actual job, not the people.
Many construction robots actually rely on human intelligence to operate. Even for the machines that are fully autonomous, a human still must deliver operational tasks while overseeing the project. For example, drones and painting robots are remote-controlled, often via an app on a phone or tablet. The combination of human supervision with robotics, GPS, sensors, The Internet of Things, artificial intelligence and other forms of technology are creating massive growth in the construction industry.
Many applications of robotics in the construction industry also support surveying, inspection and safety protocols. No matter the project at hand, project assessments and surveillance are crucial each step of the way. For instance, drones and other construction robotics can help by gathering data in real-time, analyzing it and relaying pertinent information to you. In some cases, project managers don't even need to be present, so they can direct their efforts elsewhere.
Ultimately, robots are meant to take over repetitive and dangerous tasks, leaving the creative and dynamic parts of a construction project to the true brains of the operation — humans.
3. Meeting Industry Demands and Labor Shortages
While there's a lot of buzz around autonomous cars, robots can change the construction industry, as well, especially because construction sites are more systematic and controlled than public roads. Automation is meeting industry demands as the economy continues to grow and as skilled labor forces decrease.
COVID-19 has had an impact on the industry by creating labor shortages on construction sites. This year, construction companies will need to hire hundreds of thousands of more workers to meet demands — mostly because of COVID-19 and social distancing regulations, but also because it's challenging to retain workers who can perform this type of labor.
Benefits of Using Robotics in Construction
Using robotics in construction reaps benefits, such as:
Addressing labor shortages
Constructing on-demand projects
Delivering more efficiency and accuracy
Producing higher levels of productivity
Protecting workers from hazardous environments
Shrinking operating costs and wasted materials
Reduces Labor Shortages
The industry in general, aside from the effects of COVID-19, has been experiencing labor shortages. With construction robots put in place throughout a site, you can keep operations moving at a steady pace and use the workers you do have for more dynamic work.
Makes On-Demand Projects Possible
If you have autonomous robots present, you'll discover that on-demand and customizable jobs are now more doable. Also known as additive manufacturing, 3D printing can scale opportunities for prefabricated parts on your job site. This helps reduce or eliminate the need to transport loads of material while cutting downtime.
Creates More Efficient and Accurate Projects
With artificially intelligent robots by your side, you can measure, plan and execute work in a more predictable and efficient way, collapsing construction timelines and waste. This means more money in your pockets and a less stressful job while giving value to your clients.
Boosts Productivity
While robots can work at any time or place, humans are impacted by an entire world of stimuli. For example, human laborers feel exhaustion and hunger while undergoing mental burnout, dealing with issues at home or simply feeling fatigued. Both personal and environmental elements can affect work productivity and quality.
On the other hand, construction robots can operate indefinitely until maintenance is required. These devices can produce a continuous rate of labor with the same precision each time. Autonomous systems deliver boosted productivity to help you stay within your budget and timeline for large-scale jobs. In fact, self-driving trucks can be more productive with fewer starts and stops and have more efficient routes, which ultimately leads to substantial savings.
Limits Risk of Injuries
No matter how much training and safety equipment you provide, injuries can still occur. When construction robots start laborious and hazardous tasks, you can allocate former equipment operators to safer high-valued jobs on the worksite.
Lowers Costs and Wasted Materials
Many, if not all, construction projects go over time and over budget. Unfortunately, that's become the norm, as unpredicted occurrences can affect the entire job. But with the support and use of construction robots, you can save money and be on time. These robots help avoid a large amount of rework and mistakes due to human error because the computer systems behind them are precisely actuated.
Additionally, collaborative robots can work alongside workers to improve productivity by carrying out "busy work." A fleet of robots can work overnight to have the site ready for when your workers arrive the next morning, making for a speedier process. This strategy is less expensive in the long run compared to the physical labor of workers and reduces the amount of labor needed for construction projects.
How the TinySurveyor by TinyMobileRobots Is Leading Innovation in the Industry
The TinySurveyor developed by TinyMobileRobots is a robotic land surveyor that's fast, safe and efficient. After you provide the robot with your layout design, it will collect data that your crew needs for accurate modeling and building. The TinySurveyor can even pre-mark road lines autonomously with precise movements.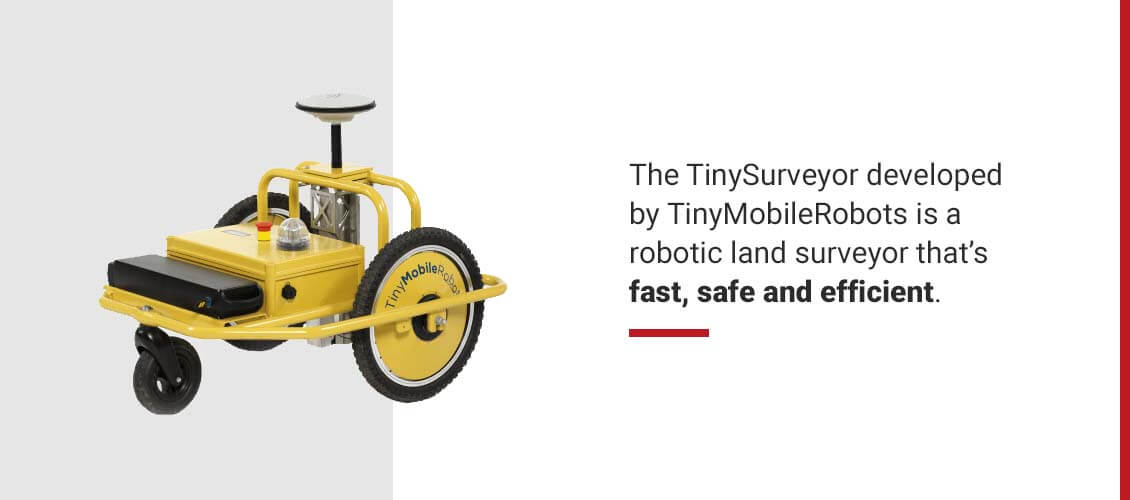 The TinySurveyor may be tiny, but its high precision comes with other impressive specifications, like:
Eight-hour battery charge
Integration with existing GNSS receiver
Integration with total station
Long-range remote controller
USB data processing
Weatherproof design
While it can take human workers hours to survey a particular job site, this survey robot cuts the time in half by allowing you to use your Global Navigation Satellite System (GNSS). TinySurveyor can deliver real-time positioning while sending data to your project manager.
Simple Design and Accurate Surveying
The TinySurveyor delivers excellent efficiency through its simple yet effective design. It can perform advanced line marking thanks to its three-wheel configuration, with two large wheels in the back helping it navigate through rough terrain like gravel, sand and rocks. It's also lightweight at 40 pounds, allowing crew members to load it on trucks and trailers with ease.
Additional features include:
Data communication
Emergency stopping
Signal lighting
Tool area
Precise Control and Enhanced Safety
For detailed insights into your projects, the TinySurveying tablet has a user-friendly interface and clear graphics so you can control the robot and your project. To help you reach the far ends of your site, the tablet is long-range. Other capabilities include the ability to apply projection shifts, adjust speeds and customize marking settings.
Surveying comes with some safety risks, especially on busy highways. The TinySurveyor can stake out a highway while a crew member controls the robot from a safe distance out of harm's way. The robot can also limit physical worker exhaustion. Surveying large projects takes a massive amount of energy, wearing down individuals and putting the project timeline at risk. But with surveying robots, workers can put their time toward less physically demanding tasks.
TinySurveyor Applications
Whether you require a line maker or stakeout robot, the TinySurveyor provides numerous applications, such as:
Harbor set-out
Highway pre-marking
Indoor set-out
Maritime port construction
The TinySurveyor also works with devices like the Trimble R12, Trimble R10 and Spectra SP85.
Request a TinySurveyor Demonstration
Contact Monsen Engineering to learn more about TinyMobileRobots or request a free demo. You can also give us a call at 800-821-0672 to speak with a representative. To see more of what we have to offer, stop by one of our locations today.