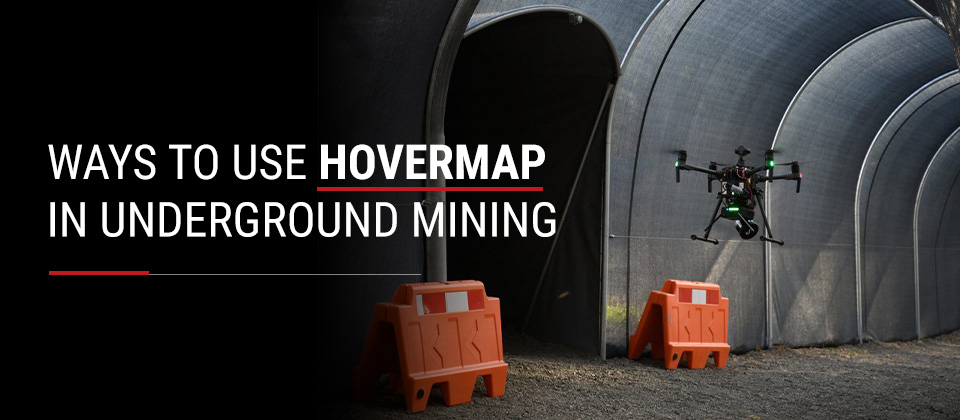 The Emesent Hovermap is a helpful tool designed for specialized use in underground mining. It attaches to a drone to let you perform data collection from a secure location, allowing you to increase safety at your job site. Try an Emesent Hovermap today to enhance operations at your underground mine.
What Is the Emesent Hovermap?
The Emesent Hovermap is a mobile scanning unit designed to be compatible with drones. You can use this highly versatile device to explore and map virtually anywhere, including inside, outside, underground and above ground, letting you evaluate areas that are inaccessible by other means.
This machine completes LiDAR scanning for underground mining. Drones equipped with the Hovermap keep workers safer by providing insight into the state of hazardous places. No matter the primary goal of your mining operations, it's vital to ensure safety while you map a work area — and the Emesent Hovermap does just that.
What Are the Benefits of Using 3D Laser Scanning in Mining?
Incorporating an Emesent Hovermap into your workday provides several benefits aside from keeping your employees safer. Some of these other advantages include:
Increased data accuracy: The advanced Hovermap system collects reliable data you can trust to inform your work.
Enhanced mining insights: The Emesent Hovermap has a rotating LiDAR scanner for comprehensive 3D data, allowing you to classify and monitor different aspects of the mining area.
Greater efficiency: The Hovermap collects and maps data for inaccessible and hard-to-reach places quickly. With the speed at which this machine performs its task, you can increase workplace productivity by gathering all the data you need in mere minutes.
6 Ways to Use the Emesent Hovermap in the Mining Industry
You can use underground scanning equipment like the Emesent Hovermap at your mining site in numerous ways. The advanced capabilities of this drone setup make it one of the most multifunctional LiDAR scanners on the market today, enabling you to perform the following and more:
1. Monitoring Convergence
When working at a mining site, it's vital to monitor ground support consistently. Your Hovermap takes insightful scans that can quickly pinpoint any changes to the support that exceed 5 millimeters.
Since the Hovermap can collect data much faster than manual mapping, you can perform checks regularly, allowing you to notice trends in convergence. The machine can help you detect wall and back deformation. All data the Hovermap gathers is beneficial for safety and schedule planning.
2. Exploring Old Workings
If you need to reassess an abandoned mine — or old workings — the Emesent Hovermap is a safe way to do it. It's essential to check the ground support when starting work at an old mine. An engineer will use Hovermap's data to assess risk, looking at information like structural conditions and rock mass. Finding and fixing any issues before allowing workers into the mine is of the utmost importance.
3. Assessing Falls-of-Ground
When a geotechnical event occurs and causes damage or other issues inside the mine, you'll want to perform an assessment. Determine how the seismic event affected your mine by sending Hovermap to collect data, keeping workers safe until you can complete a full evaluation of the situation.
You can use the collected data to create a visualization of the fallen area and determine whether it is safe to return to the mine. This information can help predict future events as well.
4. Analyzing Stope Shape
Stope shape analysis allows engineers to better understand how their drill work is performing. Send the Emesent Hovermap into the mine for stope shape analysis to get accurate point clouds. Determining the stope shape can help your team increase efficiency in drill patterns and maximize extraction.
5. Identifying Blast Performance
If you're in the extraction process at your mining site, Hovermap can help you conduct regular stope scans to assess blast performance. Since Hovermap is easy to use and gathers data quickly, you can use it at intervals to analyze the success of blasting.
The data it pulls can show over-break, fragmentation and other issues that affect the schedule or present complications. By finding this information ahead of time, your team can make the proper adjustments immediately.
6. Detecting Ground Support
When working inside a mine, you should ensure proper ground support. Good ground support will help prevent rock falls, increasing the safety of your operations. The Emesent Hovermap drone attachment can go inside a mine and gather data for visualization of the ground support, including how it is behaving. This information is especially beneficial for response to a geotechnical incident.
Contact Monsen Engineering to Purchase an Emesent Hovermap Today
Emesent Hovermap machines will help you with numerous mining operations. They allow you to identify and analyze performance, support and safety measures with only electronics, keeping your personnel out of harm's way. Please call Monsen Engineering today at 800.821.0672 or fill out our contact form to request a quote or demo.