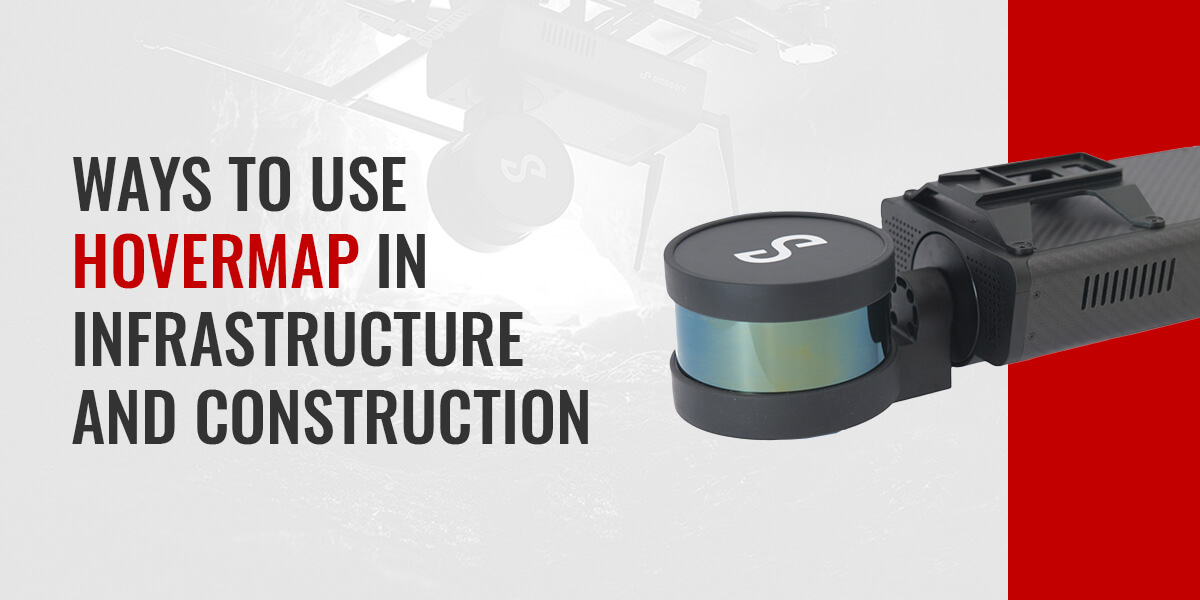 Those who work in industrial fields like construction and infrastructure know the importance of accurate site scanning and data mapping to ensure safety on the job site. With Emesent Hovermap, you can conduct three-dimensional (3D) laser scanning in any environment with maximum performance and precision.
What Is the Emesent Hovermap?
Hovermap is a smart light detection and ranging (LiDAR) building scanner designed to investigate and map countless indoor and outdoor spaces, both under- and aboveground. You can mount this equipment to drones, vehicles or backpacks depending on the environment you choose to explore.
No matter where you use Hovermap, this device will gather high-resolution point clouds and convert them into computer-aided design (CAD)-compatible data sets and detailed 3D models. This information enables construction and infrastructure companies to gain valuable insights into their job sites and provide visual context to stakeholders and workers alike.
What Are the Advantages of Using 3D Laser Scanning in Construction?
Using construction scanning equipment to aid in your industrial survey and inspection tasks means leveraging all the benefits of laser mapping technologies. Some of the primary advantages of Hovermap include:
Accurate data collection: Hovermap produces high-resolution point clouds and simultaneous localization and mapping (SLAM) to capture complex construction environments with maximum accuracy.
Efficient scanning: LiDAR building scanners can evaluate infrastructure in a matter of minutes, enabling you to reduce your time on-site. Hovermap is capable of LiDAR Data acquisition speeds of up to 300,000 points/sec in Single Return Mode and up to 600,000 points/sec in Dual Return Mode.
Worker safety: Laser scanning solutions identify hidden job site hazards, giving workers the information they need to navigate these areas as safely as possible.
8 Ways to Use Hovermap in Infrastructure and Construction Industries
Hovermap offers advanced capabilities that allow users to perform dozens of crucial applications on the job site. If you work in the construction or infrastructure industries, there's no shortage of applications you can complete with this state-of-the-art scanning equipment.
1. Scanning Industrial Buildings
Hovermap allows users to inspect outdoor industrial buildings and plants, leveraging high-resolution data to conduct functions including:
Safety inspections
Condition monitoring
Structural analyses
Change detections
This solution's collision avoidance and SLAM mapping capabilities are also useful for evaluating indoor plants, enabling individuals to capture data points quickly and accurately — even in narrow, GPS-denied environments.
2. Mapping Bridges
Bridge inspections are required across a bridge's life span to ensure safety and stability. Our LiDAR building scanner captures accurate cloud data that you can merge with hydrographic surveys to create a comprehensive data set. You can use this information to perform condition monitoring, visual inspections and structural integrity assessments to verify that bridges are safe to navigate.
3. Scoping out Construction Sites
Many industrial buildings and construction sites are structurally complex, posing hazards to drones and making these environments difficult to map. With Hovermap, you can easily navigate around vertical structures like cranes and other heavy equipment and gather data in areas of GPS shadow.
Construction building scanners are useful for developing as-built drawings, conducting reverse engineering and facilitating stakeholder engagement.
4. Exploring Tunnels
Tunnel infrastructure inspections are vital to ensure asset safety, reliability and efficiency. Hovermap features SLAM LiDAR mapping capabilities so you can scan these dark, narrow, GPS-denied areas with optimal accuracy and minimal downtime.
You can use construction scanning equipment in many tunnel-based applications, including:
Compliance inspections
Fire control
Geotechnical inspections
Ventilation monitoring
5. Analyzing Infrastructure
You can visually inspect dams and other types of infrastructure using Hovermap to assess their hydrological, geotechnical, mechanical, hydraulic and structural features. This device records high-resolution data across 100% of the asset with exceptional speed and accuracy. Using the resulting point clouds, you can easily identify moisture seepage or areas of deterioration throughout your infrastructure.
6. Assessing Telecommunication Towers
Hovermap allows you to evaluate tall telecommunication towers from a careful distance to ensure the operator, drone and tower are safe from harm. This scanning equipment can capture useful point cloud data within a single flight with colorized areas of elevation to give you a comprehensive idea of the asset's condition.
You can use Hovermap in the following applications and more:
Antenna mount inspection
Direction confirmation and space availability
Structural analyses
Change detection
Corrosion deformation monitoring
7. Evaluating Enclosed Spaces
Every construction and infrastructure worker knows the dangers of inspecting enclosed spaces like storage tanks. Structural issues can be hazardous. You can safely navigate enclosed infrastructure by attaching Hovermap to a drone or tether to detect any defects, bulging or functionality issues that may indicate danger.
8. Inspecting Transmission Lines and Towers
Hovermap makes it easy to evaluate transmission towers, conductors, insulators and power lines and detect any signs of vegetation encroachment that could pose risks of power failure. Its vertical shield, 360-degree field of view and SLAM capabilities ensure high-quality data capture without collisions.
Use Construction Scanning Equipment From Monsen Engineering
You can experience safe, accurate and efficient 3D laser scanning with Emesent Hovermap from Monsen Engineering. We're proud to have supplied design-build companies with high-quality measurement solutions since our establishment in 1974, providing assistance from project planning to completion.
Contact us to request a demo of Hovermap or get a quote today.