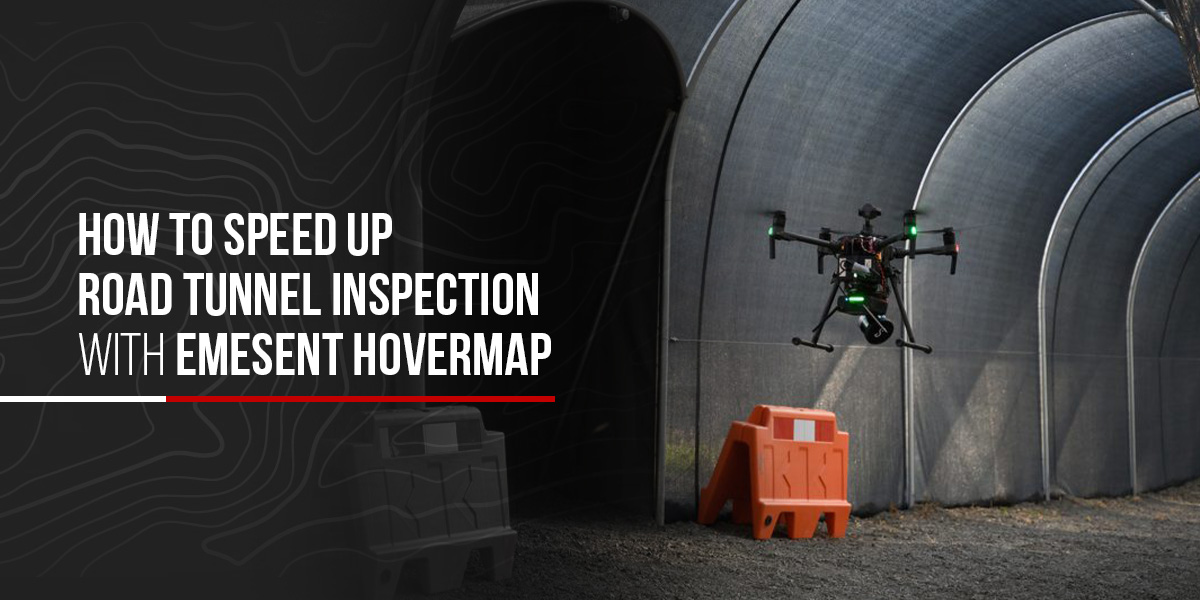 Brierley Associates, a Denver-based architecture/engineering firm, faced the challenge of inspecting a two-lane road tunnel cutting through a narrow roadway canyon. Previous inspections of the tunnel, which measures 410.8 feet long by 29.9 feet wide, required a manual process taking approximately six hours to complete. The inspectors had to execute the task during daylight hours and close the structure to vehicle traffic to ensure their safety.
While seeking an updated road tunnel inspection process to shorten the time frame, the Brierley Associates team discovered Emesent Hovermap from Monsen Engineering. This revolutionary laser tunnel scanning solution utilizes advanced Light Detection and Ranging (LiDAR) technology to capture essential inspection data accurately and significantly reduce the required inspection time.
Hovermap Delivered Superior Road Tunnel Inspection Results
A Brierley Associates mapping specialist used Hovermap to conduct a one-hour tunnel inspection at night to minimize traffic disruptions. The LiDAR tunnel scanning solution collected point cloud data, which the intuitive Emesent software was able to process the same day. Brierley's geotechnical engineering team subsequently completed a registration using CloudCompare, a 3D point cloud processing software product.
By performing inspections of road tunnels with Emesent Hovermap, Brierley Associates can also use the collected data to provide all project stakeholders with a cross-section of the existing tunnels to offer rehabilitation options for correcting deformities.
Overview of the LiDAR Tunnel Scanning Benefits
The Brierley Associates team experienced numerous benefits by using Hovermap for the road tunnel inspection:
Reduced the inspection time by 85% compared to the previous manual process
Minimized traffic disruptions due to the shorter inspection time frame and nighttime application
Increased the ability to detect structural changes and defects thanks to the superior laser scanning capabilities
Created safer conditions for the inspectors by offering the flexibility to perform two brief walking scans during low-traffic hours
The Future of Laser Tunnel Scanning
Brierley Associates plans to use Emesent Hovermap for more of its tunnel inspection projects. Other firms that typically rely on manual inspection processes will also be able to use the technology and experience several advantages:
Increased spatial coverage
Access to highly detailed, accurate baseline data
Ability to monitor data within the structure at thousands of unique points
More frequent assessments to verify the tunnel's structural integrity and identify potential issues sooner
Contact Monsen Engineering to Learn More
Monsen Engineering has been a leading designer and manufacturer of innovative scanning, mapping and surveying equipment and technologies since 1974. Discover how Emesent Hovermap's advanced capabilities can add value to your tunnel inspection projects. Contact us today for more information.