Introducing the Trimble SX10 Scanning Total Station
Combines surveying, imaging and high speed 3D scanning in one revolutionary solution
Trimble's high accuracy Lightning 3DM technology provides scanning range up to 600 m and the smallest spot size in the industry—a mere 14 mm at 100 m
Improved Trimble VISION™ technology allows for fast and easy capture of high resolution site imagery
Complete integration with familiar workflows of Trimble Access and Trimble Business Center Software
The Trimble SX10 combines three traditional instruments into one! Now you can survey, capture images, and perform high speed 3D scans with one piece of equipment. Loaded with Trimble's Lightning 3DM technology the SX10 has scanning ranges up to 600 meters and can capture up to 26,600 points per second. Combine that with Trimble Vision technology and you now have an instrument that can quickly and easily capture high resolution images of your site. In addition, you will continue to get to work with Trimble Access and Trimble Business Center software. Both software you are already familiar with and comfortably operate in. The Trimble SX10 will change the way you work!
The SX10 works with the T10 and TSC7 Tablets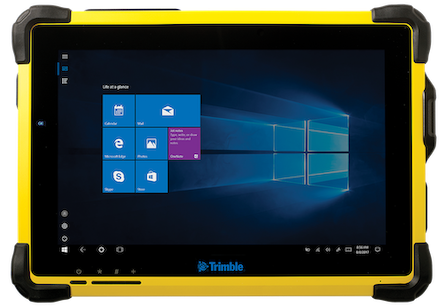 T10 TABLET
High-performance in the field
The Trimble® T10 tablet brings the advantages of fast computing power and a large screen to the field. Combined with integrated GNSS capabilities, the T10 is a powerful, rugged device created for survey fieldwork, mapping, and GIS data collection and at the same time supports demanding desktop applications.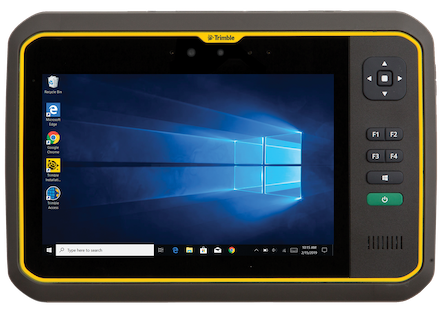 T7 Tablet
Perfectly sized for any geospatial application.
The Trimble® T7 tablet is purpose-built for demanding survey and GIS applications. Featuring a powerful processor, Windows® 10 OS, large memory and a modern user interface, the T7 is a fast, reliable field computer for surveyors and GIS workers alike. Capturing data, visualizing and manipulating maps, and running office applications out on the job site is easy with the T7—and it's all packaged in a rugged, compact, highly portable device.