Pre-Marking Robot: The TinySurveyor from TinyMobileRobots
Pre-marking is crucial for ensuring the accurate placement of lines on roadways. While pre-marking used to be a manual process, technological advancements now make automation possible.
The TinySurveyor from TinyMobileRobots is a robotic land surveyor that enables high-precision automated road pre-marking. This versatile piece of equipment gives you more control over your line marking process and delivers faster, more efficient results.
The TinySurveyor road pre-marking robot comes with a user-friendly tablet that lets you make rapid, reliable and repeatable measurements and markings with just a few screen taps. It also provides long-range control at remote job sites by enabling you to operate the robot from a distance.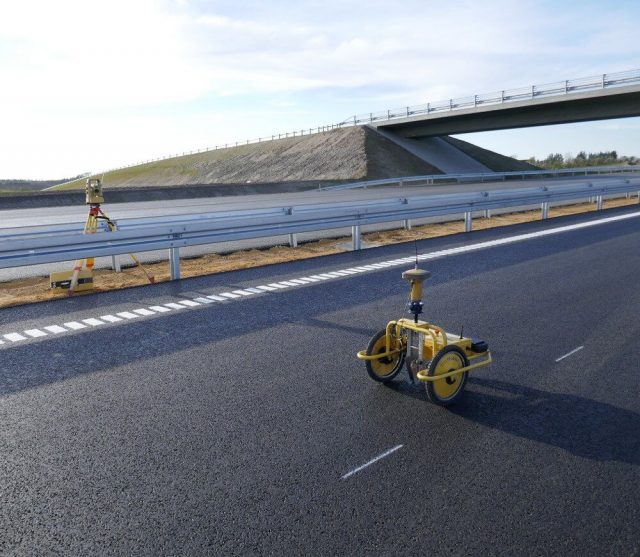 Key Specifications
TinySurveyor offers a host of features and benefits that improve pre-marking results.
Error Reduction: This autonomous pre-marking robot reduces the need for human intervention. You'll experience fewer mistakes that can lead to expensive project delays while also lowering your company's labor costs.
Saves Time: The TinySurveyor features an adjustable velocity that can reach 2.5 miles per hour. You can complete the job faster without sacrificing accuracy. You can also adapt the speed to the job site conditions as needed.
Long-Term Operation: Do you need a pre-marking robot that can cover long distances or operate for extended periods? The TinySurveyor has a battery life of up to 8 hours. It can help you meet deadlines on large-scale highway projects that demand maximum efficiency. It can also make it through the work shift without requiring you to stop and recharge the machine.
Weatherproof: Highway projects sometimes require working in unfavorable weather conditions. TinyMobileRobots designed and constructed the TinySurveyor to withstand the elements without impacting performance or reliability. This exceptional durability will also provide an excellent long-term return on your investment.
Seamless Integration With Existing Equipment: The TinySurveyor is compatible with Global Navigation Satellite System (GNSS) receivers from leading manufacturers like Trimble, Leica and Topcon. You'll be able to track the machine's position and transmit data to the operator with maximum accuracy. You can also perform data transfers by plugging in a USB key.
Expansive Tool Area: Use your automated road pre-marking machine to apply any aerosol up to 750 milliliters. You'll be able to cover large areas and mark lines and points. You can even integrate a laser pointer for enhanced precision.
Safer Conditions: Pre-marking highways can be dangerous for road crews. By eliminating the need for manual applications, the automated road pre-marking tool can keep your workers out of harm's way. You'll create a safer environment and help prevent accidents and injuries. And with the built-in manual/automated emergency stop feature, you can protect your crew members and the robot by cutting off the power when a risky situation occurs.
18 kg / 40 lbs excluding battery
4 km/h / 2.5 mph max. marking speed
Monsen Engineering Is Your Source for the TinySurveyor Pre-Marking Robot
Monsen Engineering is the exclusive source for TinyMobileRobots equipment in the United States. We can supply your company with a versatile TinySurveyor that will add value to your road pre-marking applications. Call us at 800-821-0672 for more information or contact us online to schedule a free product demo today.