Surveying Robot: The TinySurveyor from TinyMobileRobots
The TinySurveyor from TinyMobileRobots can speed up and simplify your land surveying tasks. You'll find that using this autonomous surveyor robot provides a safer, more efficient way to work. It offers more control during surveying, stakeout and pre-marking, as you can manage all of these functions remotely via a powerful handheld tablet. The increased precision will enhance surveying reliability and deliver more successful project results. You can also cut the stakeout time in half compared to manual surveying.
This technically advanced land survey robot integrates seamlessly with your GNSS receiver, ensuring you receive the accurate positioning information you need at the job site. It's compatible with surveying equipment from leading manufacturers like Trimble, Leica, Topcon and many others.
The TinySurveyor also supports standard data formats, such as DXF and CSV — you can initiate data transfers on the spot by inserting a USB key containing your line design. What's more, the total station integration capabilities allow you to collect site data on distances, ensuring more precise height measurements.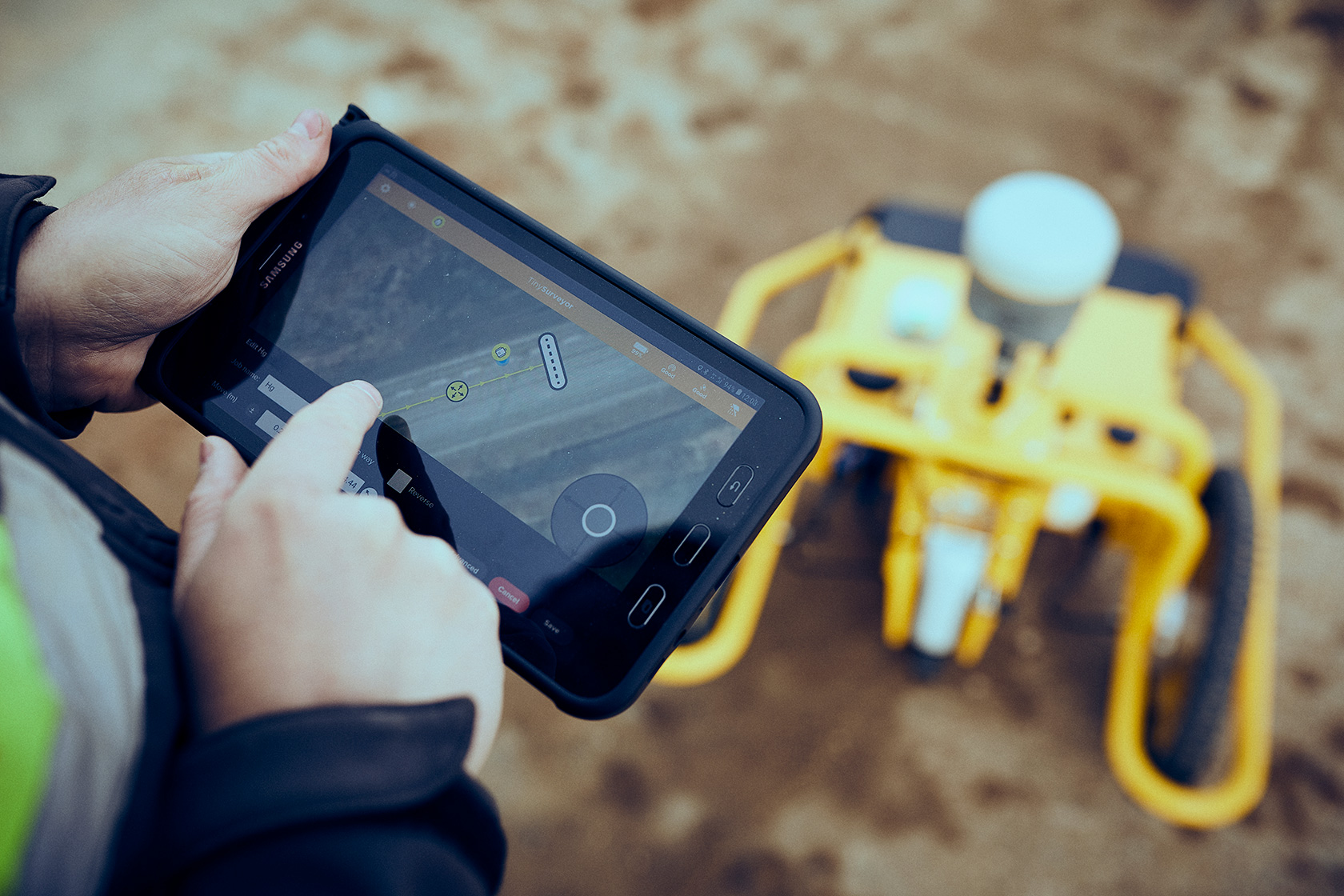 Key Robotic Land Surveyor Specifications
TinySurveyor includes numerous design features to maximize surveying performance and efficiency.
Easy to Maneuver: TinySurveyor weighs only 40 pounds, allowing your crews to load it onto a truck or trailer in no time. It also features a tri-wheel configuration with two large motor wheels in the back — it can travel over rocks, dirt, sand, and gravel surfaces and navigate around turns with ease.
Extended Battery Life: You can use your surveying robot throughout an entire shift without interruptions, keeping your projects on schedule. The battery will last up to 8 hours on a single charge.
Automated Marking Capabilities: This completely autonomous surveyor robot marks points and lines without human intervention, saving time and labor at the job site and increasing accuracy. You can even offset these markers from the tablet.
User-Friendly Tablet: The TinySurveyor control device is easy to operate and allows you to control the robot with precision from a distance. You can also use it to scale, move and rotate jobs directly from the site.
Customized Operation: The tablet also allows you to customize the robotic land surveyor's operation to meet your specific job site requirements. You can adjust velocity, create tailored marking settings and apply projection shifts with just a few taps and keystrokes.
Built-in Safety: The emergency stop feature enables manual and automated stopping, helping prevent work site accidents and protecting the machine from collision-related damage. A signal light allows crew members to view the robot as it moves and keep it away from dangerous areas.
18 kg / 40 lbs excluding battery
4 km/h / 2.5 mph max. marking speed
Contact Monsen Engineering to Learn More
Monsen Engineering is proud to be a full-service TinyMobileRobots dealer. We can supply your company with a surveying robot that will increase productivity and efficiency at your job sites and give your business a competitive edge. We'll also provide comprehensive service and support for as long as you own the equipment.
To learn more about the benefits of this advanced robot for land surveyors, call us at 800-821-0672 or contact us online today.