Layout & Stakeout Robot: The TinySurveyor from TinyMobileRobots
Performing layouts and stakeouts on a jobsite is a challenging task that requires maximum accuracy and efficiency. These days, many construction contractors and engineers are turning to robotics to complete the job with increased speed and precision.
The TinySurveyor from TinyMobileRobots is a technologically advanced robotic layout machine that can automate the stakeout process. You'll experience more reliable results, reduce costs and complete your projects more quickly than ever.
TinyMobileRobots focuses on transforming technology into meaningful solutions for companies like yours. You'll get a dependable, high-precision robot that supports the way you work. Every TinyMobileRobots product offers the ideal combination of precise positioning, automation and usability to maximize results at your job sites.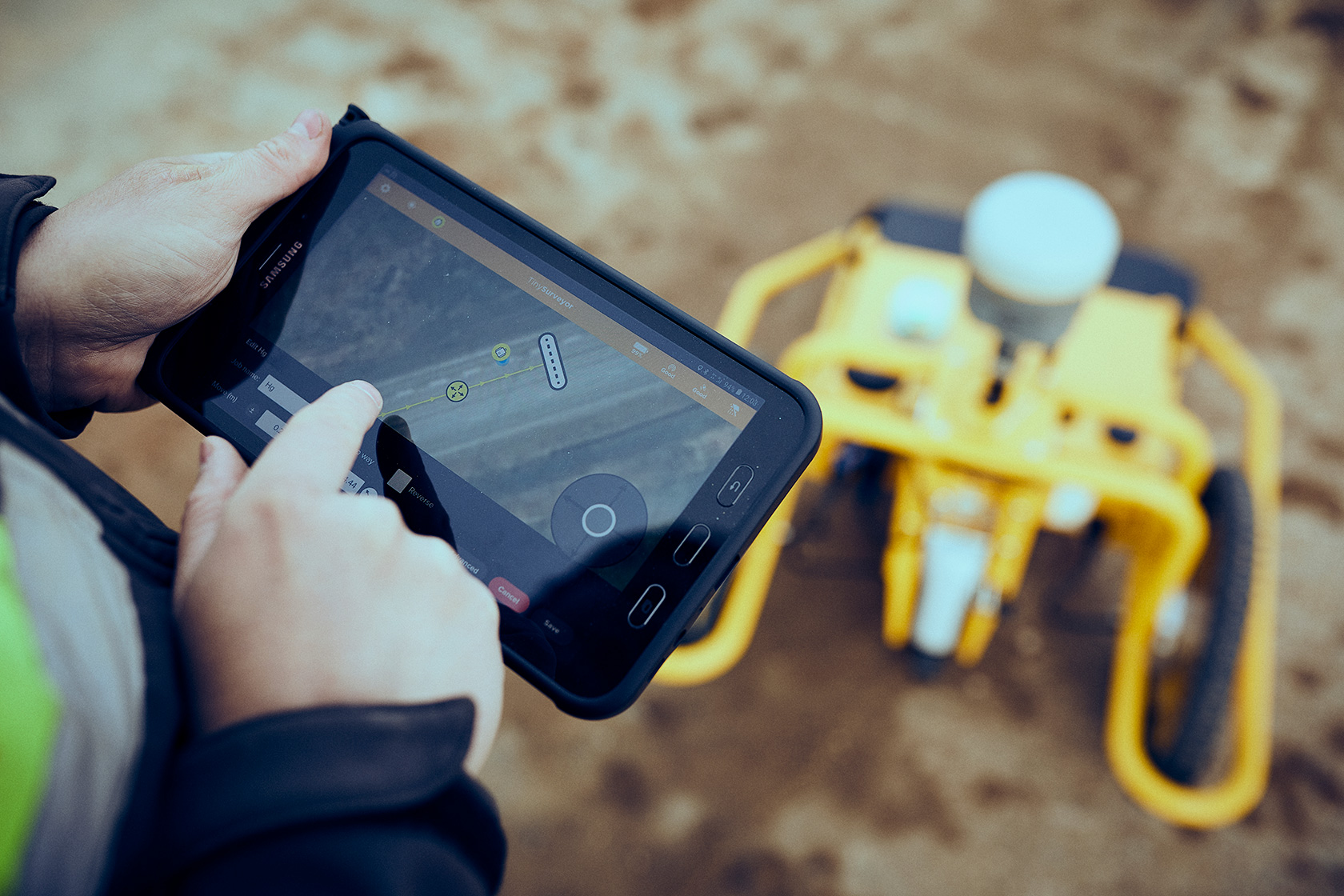 Key Automated Layout Robot Features and Benefits
TinySurveyor can deliver numerous benefits to your stakeout processes.
Simplicity: This innovative robot streamlines your operation. You can arrive at the site with your layout design, transfer it to the TinySurveyor and begin the stakeout process without delay. The machine's Bluetooth and radio communications enable you to communicate your data in seconds.
Maximum Precision: The stakeout robot is compatible with equipment from leading manufacturers like Trimble, Leica and Topcon, ensuring the most precise results. It also provides seamless integration with a total station to support accurate height measurements.
Reliable Long-Range Performance: The TinySurveyor is an autonomous machine that includes a remote controller. You can control its operation from a distance without the need for human intervention at the specific site location. And with a powerful battery that delivers up to 8 hours of performance before recharging, the robot can work for an entire shift without stopping.
Speed and Flexibility: The layout/stakeout robot can travel up to 2.5 miles per hour. You also have the flexibility to adjust the velocity to accommodate changing conditions or terrain. This customization capability ensures the machine can meet your unique job site requirements.
Full Control and Transparency: The layout robot includes a powerful tablet that provides a real-time overview of your project and enables you to make on-site projections and updates. You can complete these and other tasks with a few quick taps. You can also retrieve and read data by inserting a USB stick.
Additional Safety: Any construction site poses hazards that can put workers at risk. The ability to operate the layout robot from a distance helps you create a safer work environment. You'll also have access to a built-in emergency stop feature to enable you to shut down the machine immediately if it gets too close to crew members in the field.
18 kg / 40 lbs excluding battery
4 km/h / 2.5 mph max. marking speed
Monsen Engineering Can Supply Your Business With a Stakeout Robot
As the exclusive dealer of the TinySurveyor in the United States, Monsen Engineering can provide the best robotic layout machine for your business. You'll get access to one of the few products on the market that can perform layout/stakeout tasks autonomously, along with the support you need to get the most out of your equipment.
Call us at 800-821-0672 today to learn more. You can also contact us online to request a free product demo.