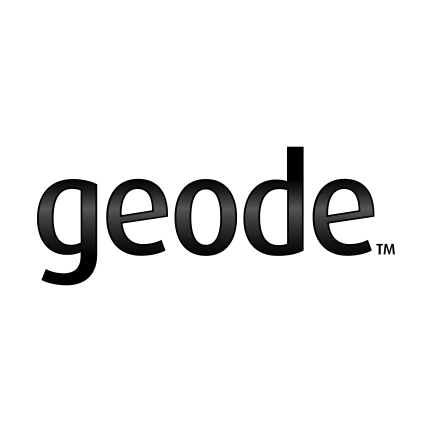 Geode
REAL-TIME, SUB-METER GPS RECEIVER
Looking for a simple sub-meter GNSS solution at an affordable price? With the Geode, you can easily collect real-time, sub-meter GNSS data without the huge price tag or complexity of other precision receivers.
Designed with versatility in mind, the Geode works with iPhone and iPad as well as a wide range of Windows®, Windows Mobile, and Android™ devices and is especially useful for bring-your-own-device workplaces.

Take the Geode with you mounted on a pole, in a pack, or held in your hand to collect real-time sub-meter GNSS data in harsh environments, using almost any handheld device.
SUB-METER ACCURACY
Use the Geode with a handheld device to easily collect sub-meter GNSS data
REAL-TIME DATA
The Geode uses multiple correction sources to provide precise, real-time data
AFFORDABLE
Get the professional accuracy you need at a budget-friendly price
ALL-IN-ONE
Inside, the Geode contains both receiver and antenna, providing an all-in-one GNSS solution
COMPACT SIZE
The Geode is small and lightweight — easy to pack around for all-day use
OPEN INTERFACE
Use the Geode with any of Juniper Systems' handhelds or your own iPhone, iPad, Windows, or Android device
ALL-DAY BATTERY LIFE
Overtime Technology battery is ideal for long workdays and conserves power in extreme temperatures
JUNIPER RUGGED
Designed to withstand harsh environments for consistently reliable performance
SIMPLE TO USE
Intuitive and easy operation — one-button simplicity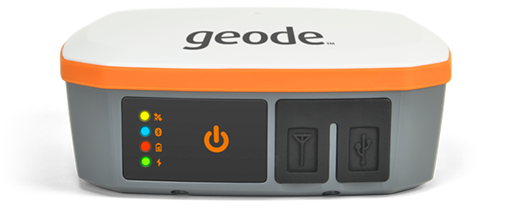 GEODE GNS2 GPS, 1 HZ
Lowest Cost Option. Ideal for open sky/rural applications.
GEODE GNS2 MULTI-GNSS, 1 HZ
Most Popular Option. Ideal for most environments including urban and mixed canopy, not ideal for vehicle use.
GEODE GNS2 MULTI-GNSS, WITH 9-PIN SERIAL PORT, 1 HZ
Preferred device if hardwired to a tablet or PC. Not ideal for vehicle use.
GEODE GNS2 MULTI-GNSS, 10HZ
Recommended device for vehicle use.
GEODE GNS2 MULTI-GNSS, 10HZ WITH 9-PIN PORT
Premiere option. Most versatile, can be used for all environments and nearly every application
GEODE GNS2 COMPATIBILITY
iPhone 12 Pro Max, iPhone 12 Pro, iPhone 12, iPhone 12 mini, iPhone 11 Pro Max, iPhone 11 Pro, iPhone 11, iPhone XS Max, iPhone XS, iPhone XR, iPhone X, iPhone 8, iPhone 8 Plus, iPhone 7, iPhone 7 Plus, iPhone SE, iPhone 6s Plus, iPhone 6s, iPhone 6 Plus, iPhone 6, iPod Touch (7th generation), iPad mini (5th generation), iPad (7th generation), iPad (6th Generation), iPad Air (3rd generation), iPad Air (4th generation), iPad Air 2, iPad Pro 12.9 inch (3rd Generation), iPad Pro 12.9 inch (2nd Generation), iPad Pro 12.9 inch (1st Generation), iPad Pro 11-inch, iPad Pro 10.5 inch, iPad Pro 9.7-inch

Windows® PC (8/10)
Windows® Embedded Handheld 6.5
Android™ 4.x and above

GeodeConnect™ software provides configuration, communications setup, and receiver settings
RECEIVER PROTOCOLS
Data I/O protocol: NMEA 0183, raw binary (proprietary), RTCM3

Other: 1PPS timing output, Speed Pulse, event marker input (optional)
ACCURACY
SBAS (WAAS): <30 cm horizontal RMS (<60 cm 2DRMS)*

Cold start: <60 sec typical (no almanac)

Reacquisition: <1 sec
*GNSS accuracy subject to observation conditions, multipath environment, number of satellites in view, satellite geometry, and ionospheric activity.
POWER
Input voltage: 5VDC @ 2A USB
Power consumption: 1.7-2 W nominal
Overtime Technology™ battery: 3.6V 6000 mAh Li-ion (~10-11 hours typical)
Charging time: ~4 hours typical
ANTENNA
Internal precision multi-GNSS with integrated ground plane
External antenna port: MCX type, 50 ohm 15VDC @ 20 mA maximum
JUNIPER RUGGED™
2 year warranty
Operating temperature: -20 C to +60 C
Storage temperature: -30 C to +60 C
Enclosure rating: IP68
Dimensions: 4.4 x 4.4 x 1.7 inch (111 x 111 x 43 mm)
Weight: 0.8 lb (360 g)
Mount: ¼ x 20 camera stud and #6-32 AMPS Adapter (diagonal)
COMMUNICATIONS
Bluetooth® 4.1 (SPP, iAP2, and EAP)
Bluetooth® range: Class 1 Long Range
Ports: micro USB Client 2.0; serial RS232C DB-9 (optional)
Serial baud rates: 4800-115200
RECEIVER UPGRADES
2 Hz to 10 Hz update rate
Multi-GNSS upgrade
SOFTWARE
GeodeConnect™: provides configuration, communications setup, and receiver settings
Available for:

iPhone and iPad (see Geode GNS2 Compatibility for complete list of devices)
Windows Embedded Handheld 6.5
Android 4.x and above
Windows PC (8/10)
RECEIVER
Receiver type: GNSS single frequency with carrier tracking
Signals received: GPS, SBAS,GLONASS, BeiDou, GALILEO, and QZSS. (*Signals used dependent on model configuration.)
Channels: 162
SBAS tracking: 3-channel parallel tracking
Update rate: 1 Hz standard, 2-10 Hz (optional)
INCLUDED ACCESSORIES
5VDC USB Universal Charger
USB Data/Charging Cable (USB-A to Micro-B)
5/8 x 11 Pole Mount Adapter