 GEODE
REAL-TIME
SUB-METER GPS RECEIVER
Now there is a simple GNSS Receiver at an affordable price. The Juniper Systems Geode provides sub-meter accuracy when collecting real-time GNSS data. The Geode was designed to be used with a wide range of devices including the iPhone, iPad, Androids and Window based cell phones. 
Mesa 3
YOUR OFFICE, ANYWHERE.
The Mesa 3 rugged tablet from Juniper Systems features a 7" readable display even in sunlight and a battery that will last all day. On top of being waterproof and dustproof, the Mesa 3 can withstand extreme temperatures. Using Windows 10 or Android 9.0 operating system, it is ready to collect all your data, from the beginning of your project to the end of your project. You can take a photo of an asset, log your field observations, collect a GNSS location and evaluate your data. Although this tablet is the size of your hand, it possesses the power of a full desktop computer. With the Mesa 3, you can office anywhere!
Waterproof, dustproof, shockproof
Extreme temperature endurance
Ergonomic design for minimal user fatigue
All-day battery life
Large 7'' sunlight-readable display
Racing-fast processor options
Designed and assembled in the United States
Live and individualized customer support
Customizable
Optional Class 1, Div 2 certification for hazardous locations
Running a full Windows 10 or Android 9.0 operating system, Mesa Rugged Tablets carry out the entire data collection process with ease from start to finish. Snap a photo, record field notes, capture a GNSS location, and analyze data – all in the palm of your hand. Its racing-fast processor and ergonomic design ensure maximum efficiency and minimal fatigue. With all the functionality of a desktop computer packed into one ultra-tough tablet, the Mesa Rugged Tablet will truly become your office, anywhere.
Cedar CT8X2 Rugged Android Tablet
WORK HARD. WORRY LESS.
Juniper Systems' Cedar line of rugged android tablets and smartphones offer users an upgrade in durability and performance when a consumer tablet just won't cut it. Designed for all-day use in any environment, the CT8X2 offers impressive processing power running on an Android™ 10 operating system.
Water and dust resistant

All-day battery life

Impressive processing power

Sleek rugged design

Optional barcode or RFID reader

Unbeatable customer care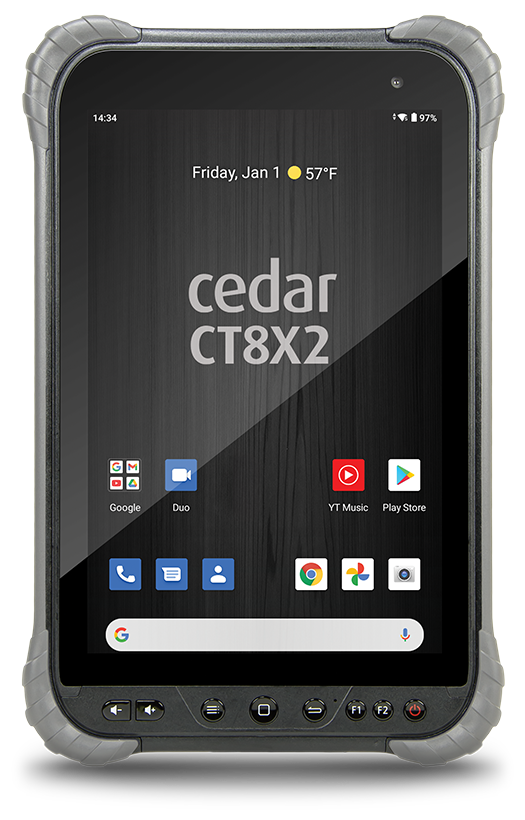 DESIGNED TO WORK
BUILT TO LAST
The Archer 3 Rugged Handheld is the ultimate device for frequent single-handed data entry. Designed and assembled in the United States, the Archer 3 carries on the ruggedness and longevity for which the Archer line is known. It also adds improvements that include an enhanced lightning-fast quad-core ARM® Cortex® processor, Android™ AOSP operating system, and increased memory and storage.
Rapid data transfer speed
Fast program and file load times
20-hour battery life
Increased memory storage, 16 GB
Ultra-rugged IP68 rating
2–5-meter accurate GPS
Optional Class 1, Division 2 certification for hazardous locations
ALLEGRO 3
DESIGNED FOR THE
DATA-INTENSIVE
The Allegro 3 was designed for the data collection professional looking to achieve 2-5 foot GPS accuracies in the field. Rain or shine, the Allegro 3 is rugged enough to withstand the worst environments. From -22 to 140 degrees Fahrenheit and 4-foot-tall drops this data collector can handle it. Its military grade rating is guaranteed to keep your data safely stored on its 16 GB internal memory. Using a wireless 4G LTE connection you can easily transfer your data from field to office. This is by far, the most powerful Allegra yet!
Rapid data transfer speed
Fast program and file load times
20-hour battery life
Increased memory storage, 16 GB
4G LTE connectivity capability
Ultra-rugged IP68 rating
2-5 meter accuracy GPS