Road Pre-Marking & Striping Robot: The TinySurveyor from TinyMobileRobots
Marking roads and highways is a high-precision job that leaves no margin for error. The TinySurveyor from TinyMobileRobots is a highly advanced pre-marking robot that seamlessly combines accuracy, efficiency and safety in one easy-to-use machine. Use this automated robot to improve pre-marking results on asphalt paving, highway construction and re-lining projects.
Use This Pre-Marking Robot for Multiple Purposes
The TinySurveyor is a versatile piece of equipment you can use for various pre-marking applications. It will deliver a superior outcome when preparing to create center road lines, establish boundaries and direction markers at events, develop solar park layouts and much more. The ability to implement one machine for several tasks provides convenience, eliminates errors caused by switching to different models and saves valuable time at the job site.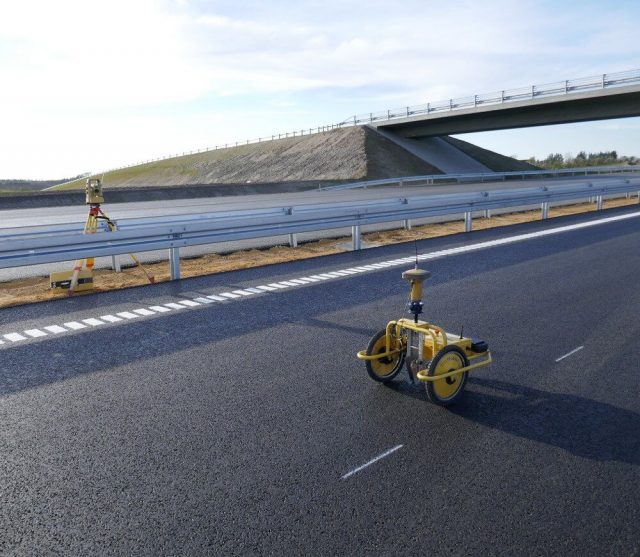 TinySurveyor Specifications
The pre-marking robot streamlines road striping with an assortment of features and benefits designed to increase accuracy, speed, productivity and safety:
Remote Operation: This autonomous pre-marking robot for roadwork can typically get more work done than a human assigned to the same task, allowing you to complete your projects faster by eliminating the need for rest or lunch breaks during a project. The long-range remote controller enables you to control the equipment's movements at a distance, while the powerful tablet includes a user-friendly interface to manage and project the robot's operating parameters with a few taps.
Adaptability: Compatibility with a Global Navigation Satellite System (GNSS) is crucial for allowing a pre-marking road robot to track the machine's position and transmit data to the operator. You can synchronize the TinySurveyor with equipment from Trimble, Leica, Topcon and other leading manufacturers to deliver precise positioning data.
Supports Standard Data Formats: Use the TinySurveyor to transfer data to the robot via a standard DXF or CSV file by plugging in a USB key. The robot is capable of reading the information directly from the stick.
Reliable All-Weather Performance: The TinySurveyor utilizes a weatherproof design and construction. It will perform flawlessly in the most challenging job site conditions and deliver maximum longevity that leads to lower long-term operating and ownership costs.
Easy to Maneuver: This TinyMobileRobots product features a tri-wheel configuration, enabling it to navigate turns with ease. You can use it on all types of curved or winding road surfaces during the pre-marking process without sacrificing performance or precision.
All-Day Operating Capacity: This pre-marking robot can complete an entire shift without stopping or slowing down. The onboard battery can run up to 8 hours without recharging, enabling you to keep your projects on schedule.
Consistent Results: The unparalleled accuracy provided by the TinySurveyor ensures reliable, repeatable measurements you can trust, eliminating the time and expense of going over an area twice.
18 kg / 40 lbs excluding battery
4 km/h / 2.5 mph max. marking speed
Streamline Road Pre-Marking With Monsen Engineering
As the exclusive TinySurveyor dealer operating in the United States, Monsen Engineering is your one-stop source for this revolutionary road pre-marking robot. We can also provide complete service to maximize your user experience.
Call us today at 800-821-0672 to learn more or contact us online to request a free product demo.